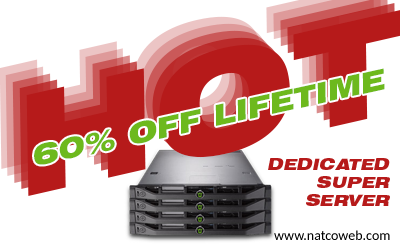 Natcoweb offers
Great Deal
for clients who:
are looking for outstanding server performance
are not willing to overpay
need their project on-line 24/7
hate being under contract
Now you can get Quad Intel Xeon E5-4620 server with 64GB RAM and 2x 600GB HDD at just $390.00 with 30000GB Data Transfer on a Gbit port for free!
Promo price remains firm until you cancel the deal
Free setup & NO hidden payments
Upgrades available on request
Lease-to-Own deals available
Only two servers left!
You are welcome HERE to get a premium-class dedicated server and save $585 monthly!
Highest regards,
Natcoweb Team

E-mail: sales@natcoweb.com
Skype: natcoweb