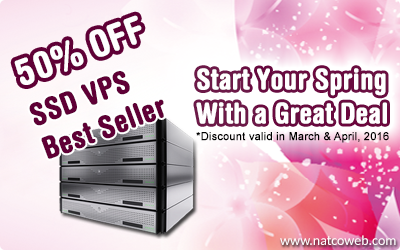 Whether your lifetime project is devoted to producing or selling some special goods, or to providing shipping or banking services, whether you are going to start up a hosting company or an E-store, the first thing you need to take care of is your web-site availability without any downtime.
NatcoWeb has its mission in creating conditions for you and your businesses' best performance by providing premium-quality hosting services and professional technical support. You can easily find the best hosting solution for your business with its particular needs.
NatcoWeb offers Spring Promotions to help you cut your initial expenditures. Choose the best hosting plan for your project and take your chance!
Get 50% OFF SSD VPS Best Seller in March and April!
Get 50% OFF your first Dedicated Service bill!
Get 50% OFF your first Colocation bill!
Feel free to contact us for the details!
E-mail: sales@natcoweb.com
Skype: natcoweb