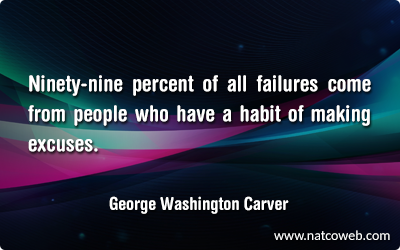 People all over the world dream of improving their businesses performance, of becoming more energetic, of making less efforts and using less time and money for getting better results. There are dozens of ways to increase the return on your investment, as well as your own efficiency. And I bet you know at least some of them. The only thing that prevents you from following this way is the invisible barrier. Stop making excuses and find the way to clear your barriers! Or find those who will help you.
Realizing your ability to act without hesitation and without trying to decline all the responsibility is your way to innovate, to make real changes in your own life and in the life of your project. This is what all the members of Natcoweb Team have complete confidence in. I promise you, such a life style will for sure give you more self-belief and help your partners to believe in you.
Excuses are just the way to relieve yourself of responsibility, when you are afraid of the upcoming winless. Choose those who are not in flight from the responsibility, and those who feel confident about their skills and competence. Such people and companies do not think of making excuses. And they will lead you to success.