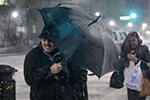 While the major winter storm forecasted by the US Weather service affects areas within our location, our datacenter remains operational and report no power loss, communications failure, or service disruption.
We've just received the update from TelX Tech Support:
"In the event the storm affects these facilities, local Telx teams tested and confirmed the operational readiness of all emergency power systems, including:
Fuel reserves are at maximum levels and fuel deliveries are scheduled, if needed
All generators are tested and in optimal working condition
All UPS and HVAC systems are in proper settings and working in optimal conditions
Additional on-site staff is deployed and any necessary supporting contractors are on call for quick response, if required".
TelX will continue to assess the situation and prepare accordingly.
Cheers,
Natcoweb Team